- Lake Ontario -
Smallest of the Great Lakes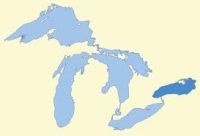 Smallest of the Great Lakes by surface area.
LENGTH: 193 miles
BREADTH: 53 Miles
SURFACE AREA: 7,340 sq. miles
VOLUME: 393 cu mi
SURFACE ELEVATION: avg. 243 feet above sea level
AVERAGE DEPTH: 283 feet
MAX. DEPTH: 802 feet
SHORELINE: 712 miles (including islands)
Bounded by Ontario, Canada, on the north and southwest, the U.S. state of New York on the southeast, Lake Ontario is the fourteenth largest fresh water lake in the world, and smallest of the Great Lakes in surface area but surpasses Lake Erie by volume. It is also the only one of the Great Lakes that does not touch the state of Michigan.
Lake Ontario is connected to the Atlantic ocean by the St. Lawrence Seaway, an internationwal waterway consisting of a system of dams, canals and locks in the St. Lawrence River. Opened in 1959 at a cost of $470 million it made the old Erie Canal obsolete.
The Welland Canal is a key section of the St. Lawrence Seaway which connects Lake Ontario and Lake Erie. At twenty-seven miles in length it contains 8 locks which allow boats to bypass Niagara Falls and ascend/descend the Niagara Encarpment
---
SOURCES
Encylcopedia Britannica
Rand McNally Atlas, 1987
National Oceanic and Atmospheric Administration