- Lake Michigan -
Third Coast of the United States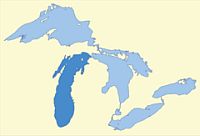 The only one of the Great Lakes that does not share an international boundary.
LENGTH: 307 miles
BREADTH: 118 Miles
SURFACE AREA: 22,300 sq. miles
VOLUME: 1,180 cu mi
SURFACE ELEVATION: avg. 577 feet above sea level
AVERAGE DEPTH: 279 feet
MAX. DEPTH: 923 feet
SHORELINE: 1,640 miles (including islands)
Lake Michigan, second largest of the Great Lakes by volume, third largest by surface area, and is the fifth largest lake in the world. It is the only one of the Great Lakes situated entirely within the United States, and is the largest lake in the world contained within one country by surface area. It is bounded on the north and east by Michigan, the west by Wisconsin and the south by Indiana and Illinois.
Lake Michigan and Lake Huron have the same elevation above sea level, and could technically be considered the same body of water. Sometimes called Lake Michigan-Huron, or transposed, Lake Huron-Michigan, they are generally considered as individual lakes with the dividing line being at the Mackinac Bridge which spans the narrow Straits of Mackinac at the northernmost tip of the "mitten" state.
There are 43 islands in Lake Michigan however all of them are in the northern portion of the lake. The largest and most populated is Beaver Island. Covering 55 sq. miles of land it is located about 32 miles off Charlevoix, and is a part of Charlevoix County.
---
SOURCES
wikipedia.org/wiki/Lake_Michigan
Mackinac Bridge Authority
Michigan Sea Grant/ University of Michigan
Michigan Department of Transportation
epa.gov Rand McNally Atlas, 1987