- Lake Huron -
"the lake in the middle"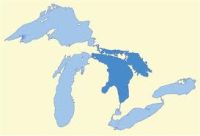 Second largest of the Great Lakes by surface area.
LENGTH: 206 miles
BREADTH: 183 Miles
SURFACE AREA: 23,000 sq. miles
VOLUME: 849 cu mi
SURFACE ELEVATION: avg. 577 feet above sea level
AVERAGE DEPTH: 195 feet
MAX. DEPTH: 750 feet
SHORELINE: 3,830 miles (including islands)
Lake Huron is made up of four bodies of water: Georgian Bay, Saginaw Bay, the North Channel and Lake Huron proper. While Lake Huron is the second largest of the Great Lakes by surface area, it is the third largest by volume. It is also the third largest fresh water lake on earth, fourth largest if the Caspian Sea is counted as a lake.
Lake Michigan and Lake Huron have the same elevation above sea level, and could technically be considered the same body of water. Sometimes called Lake Michigan-Huron, or transposed, Lake Huron-Michigan, they are generally considered as individual lakes with the dividing line being at the Mackinac Bridge which spans the narrow Straits of Mackinac at the northernmost tip of the "mitten" state.
Because of its two large bays and 30,000 islands, Lake Huron has the longest shoreline of any of the Great Lakes. Georgian Bay protrudes northeast from Lake Huron into Ontario, Canada. Manitoulin Island, which separates Lake Huron from Georgian Bay, is the largest fresh water island in the world. The smaller Saginaw Bay protrudes from Lake Huron into the state of Michigan and makes up part of the "thumb" area.
On November 9, 1913, horror unfolded as a 16 hour long storm of hurricane proportions lashed the Great Lakes sending twelve ships to the bottom with all aboard. Seven of these were on Lake Huron and two of them have never been found.
Thunder Bay National Marine Sanctuary and Underwater Preserve was established in 2000. It is located at Alpena, Michigan, covers 448 square miles and is the thirteenth National Marine Sanctuary designated by NOAA.
---
SOURCES
Michigan Department of Environmental Quality
michigan.gov
Rand McNally Atlas, 1987
Encyclopedia Britannica - Lake Huron
National Oceanic and Atmospheric Administration (NOAA)