- Lake Erie -
Shallowest of the Great Lakes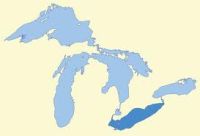 Fourth largest of the Great Lakes by surface area.
LENGTH: 241 miles
BREADTH: 57 Miles
SURFACE AREA: 9,910 sq. miles
VOLUME: 116 cu mi
SURFACE ELEVATION: avg. 569 feet above sea level
AVERAGE DEPTH: 62 feet
MAX. DEPTH: 210 feet
SHORELINE: 871 miles (including islands)
Bounded by Ontario, Canada, to the north, the U.S. states of New York, Ohio and Pennsylvania to the south, and Michigan to the west, Lake Erie is the twelfth largest fresh water lake in the world by surface area, fourth largest in the Great Lakes in surface area and smallest by volume.
Because of its shallow depth it is the first to freeze during the winter and makes it the warmest during the summer months. The western basin is the shallowest part of the lake width average depths of only 25 - 30 feet. In this area even slight breezes can kick up angry waves which build quite quickly.
There are thirty-one islands in Lake Erie, the largest being Pelee Island, Ontario. Starve Island, Ohio, with only 2 acres of land, is the smallest island in Lake Erie.
It was near Put-In-Bay, Ohio, that an entire British fleet was captured by Oliver Hazard Perry in 1813.
---
SOURCES
National Oceanic and Atmospheric Administration (NOAA)
en.wikipedia.org - Starve Island
Rand McNally Atlas, 1987
Ohio Department of Natural Resources
Ohio Sea Grant College Program