---
- Fast Facts -
Maine is the easternmost state in the contiguous United States, and the northernmost east of the Great Lakes. It is bordered on the west by New Hampshire, on the southeast by the Atlantic Ocean, and by Canada on the northeast and northwest. It's rocky coastline is dotted with picturesque lighthouses, silent sentries warning ships away from disaster. Inland are low, rolling mountains such as Mount Katahdin, the highest point in the state.
The province became part of Massachusetts Bay Colony in 1652 and remained as such until March 15, 1820, when formal secession and formation of the state of Maine occurred as part of the Missouri Compromise. Portland was originally the state capital but was moved to Augusta in 1832 to provide for a more central location.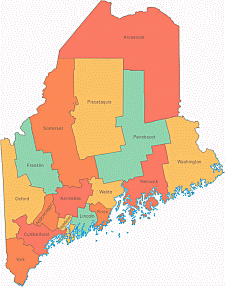 The state of Maine covers 35,385 square miles and is divided into 16 counties. It is the 39th largest state and ranks 42nd in population. Roughly 83% of the land is forested which makes it the most forested of any state. The northernmost portion (part of Aroostook county) is so forested and underpopulated that there is only one person for every 264 square miles.
Off Maine's easternmost point are Machias Seal Island and North Rock. They are unique in the fact that they are claimed by both the U.S. and Canada. Another unique feature is Old Sow, the largest tidal whirlpool in the Western Hemisphere. Old Sow is located in the Bay of Fundy, in the Western Passage of Passamaquoddy Bay between Brunswick, Canada and Eastport, Maine. Arcadia National Park, near Bar Harbor, is the only National Park in New England.
---
The genealogical records held here are for use by the general public. These records have been submitted to the USGenNet Data Repository by volunteers and researchers just like you for permanent on-line free-access.